The most famous grass courts in the world reside at the All England Lawn Tennis and Croquet Club, better known as Wimbledon. The Wimbledon Championships is not only the oldest tennis tournament in the world — it's considered the most prestigious.  It's the only major tournament played on grass, the games original surface, and in 2012, Wimbledon played host to the Summer Olympics.
Currently, Wimbledon is in its last week of play, with all-time greats like Roger Federer, Rafael Nadal and Serena Williams already being ousted. It happens because grass can be somewhat unpredictable.
Let's take a look some of differences between the popular hard court tennis court and grass tennis courts.
Grass Courts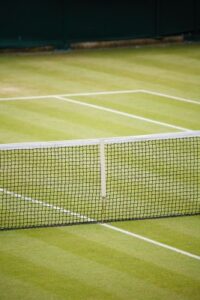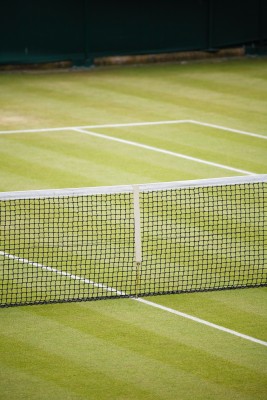 Grass was once the world's most popular tennis surface, but that has changed with more choosing for hard court surfaces because their low maintenance costs. Like we mentioned earlier, playing on grass is sometimes unpredictable. During the course of a tournament, the grass can go to a plush green, to having bare sports along the baselines. Grass can only take so much during the course of a tournament, and sometimes even a  match.
Grass courts favor the player with a hard service and return. Serve-and-volley players, ones who serve the ball then attack the net, have found great success at Wimbledon. Pete Sampras won half his 14 majors there, and Federer also won seven. Typically, players who can play on hard courts perform just as admirably on grass courts.
Grass is known for having a fast playing surface, with the ball not losing much steam off the bounce, so the ability to blow it past a player is greater than on clay or the hard court. Scoring points are often times faster as volleys are more infrequent. Because the grass gets worn and oftentimes the playing surfaces aren't exactly even, being more aggressive and coming to the net to hit the ball out of the air instead of off the bounce is sometimes important. The bounce of the ball is also lower too.
When it comes to maintenance, there isn't a more expensive court to maintain than grass. Cutting it, watering it, seeding it and painting it — it's a full-time job. It's the main reason of their decline.
Any rain will also deter playing time.
Post-tension Hard Courts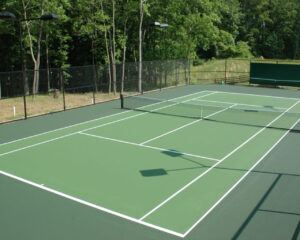 Maintenance is a major selling point with these courts. With Classic Turf's 20-year guarantee, they will be no cracks or abrasions in the surface. During those 20 years, the grounds at Wimbledon might have 5,000 lawn cuts.
Hard courts and grass courts are more similar than hard courts and clay courts. Hard courts have a truer surface and bounce and don't need extensive drying periods like clay and grass courts need. A little sun will dry a court in minutes.
The only real advantage grass has over playing on a post-tension concrete course is its nostalgia. But when it comes to maintenance and playing surface, hard court still holds and advantage.