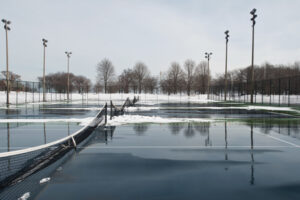 It's not spring just yet, but it will be here soon! Once the winter ends, you'll want to have your tennis court ready to go so that you can start enjoying it again. There are a series of steps you'll want to take prior to the start of spring to prepare your tennis court for the season. Here is what you should do to make sure that you're able to start playing tennis sooner rather than later.
Remove debris from your tennis court.
Over the winter, there's a good chance that a bunch of different debris built up on your tennis court. From dirt and dust to leaves and branches, you should begin by removing debris from your tennis court. You can do it by busting out a broom and sweeping everything away. You might also want to consider using a leaf blower to blow away any dirt that's too hard to sweep up.
Clear off any standing water pooling on your tennis court.
If your tennis court was covered with snow and ice for much of the winter, there is probably at least some standing water on it. It's important to remove this standing water as soon as possible, because it can lead to mold and mildew if you're not careful. It can also bring mosquitos and other unwelcome pests to your tennis court. Get rid of standing water to prevent these problems.
Bring in the pros to pressure wash your tennis court.
Is there hard-to-remove dirt and grime on your tennis court? Eliminating them from your court is a job that's best left to the professionals. Call on a company that can pressure wash your tennis court safely with the right equipment. It'll bring your court back to life and make it look like new again in most cases.
Has your tennis court seen better days? It might be time to replace it or to put a new surface down on it. Classic Turf can help you with all your tennis court needs. Call us at 800-246-7951 for more information on working on your tennis court this spring.