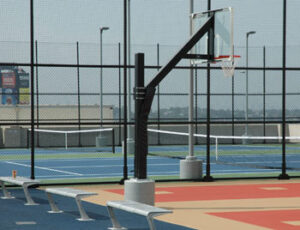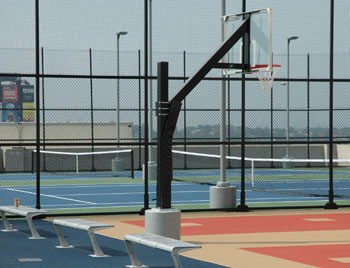 Okay, so you want to put a basketball hoop in your yard. How do you decide how tall it should be? Do you want it to be really tall, so that your little kid has to work extra hard to make their shot(s)? Or do you want it really low, so that your little kid has no problem dunking? What about as your kid or kids age? They're going to grow taller. They can't utilize a short basketball net forever, right? Are there adjustable basketball hoops, where you can adjust the height as needed? Yes, thankfully there are, and Classic Turf Company can install them for you.
From children to professional adult basketball players, Classic Turf Company has a variety of basketball systems that suit different playing levels. Two of the popular systems on the market are the Ultimate Adjustable System and the Ultimate System. If you were to choose one, go with the adjustable one.
Why have Classic Turf install the Ultimate Adjustable System for your basketball court? First, you get a 72" clear "TruGlass" tempered glass backboard with a strong aluminum frame. Next, you get the ZipCrank height adjustment feature. This comes in handy when you've got players of different ages, heights and abilities using your court. The height adjustment can vary between 7-½' to 10', so raise it up higher if needed, or keep it lower if that's more practical. With 51" clearance from "pole to goal," this feature is so versatile. Meanwhile, the Ultimate Adjustable System has a goal height indicator, powder coated pole, 1" thick fitted pole padding (for added safety), a heavy duty competition Flex Goal, removable hand crank, and a direct burial or removable pedestal base. It doesn't get more versatile than this!
If you don't care about adjusting the height of the net, get the Ultimate Basketball System, which is similar to the adjustable version, except it's at a 10' fixed height and offers two more inches of clearance from pole to goal.
Classic Turf Company is known for installing basketball courts as well as all the stuff that goes with them, including basketball systems like the aforementioned ones. Please visit here or for more information, or call us at 1-800-246-7951 to request more information.