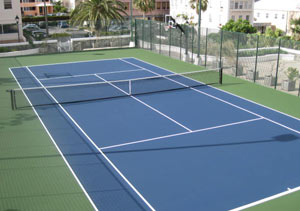 At Classic Turf Company, we have decades of experience installing high-quality tennis courts. From court fencing to lighting, we do it all and more. With winter right around the corner, now is a good time to remember that unlike some sports, tennis can be played all year long. Simply hire our team to install an indoor tennis court and you can play no matter how cold it is outside. In addition to being able to play tennis in or outdoors, there are several other benefits that go along with this exciting sport.
For one thing, regularly playing tennis can have a very positive affect on your health. Studies have shown that an activity like tennis can improve your cardiovascular system, which can leader to a longer and more fulfilling life. Not only is tennis great for your physical health, but it can also improve your mental and emotional well being.
Going along with that, tennis is also an extremely social sport. Whether you want to play with friends, family members, or even new acquaintances, it is a great way to get to know someone. You could even pick a partner to practice with and observe how each other improves over time.
You can also think of playing tennis as an investment, because it is an activity you can do throughout your whole life. While some sports like football and basketball become harder to participate in as you get older, tennis can be enjoyed by people of all ages. You can even adjust the game to suit your specific needs, and while it is a physical activity it won't overexert your body.
These are just a few of the reasons why taking up tennis makes sense. No matter what time of year it is, give us a call to learn more about our high-quality tennis installation services!