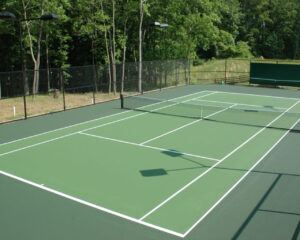 This past Sunday saw one of the most thrilling tennis matches of the year. In the U.S. Open championship match, Novak Djokovic squeezed by Roger Federer 6-4, 5-7, 6-4, 6-4. Djokovic and Federer are two of the best and most popular tennis players in the world and whenever they meet on the court, you can be sure that their match will be electric.
In previous blog posts, we have talked about the waning interest of tennis in America, but it was tough finding any disinterest this weekend. It helps that it was the U.S. Open, one of the major tournaments in the tennis calendar year. Oh yeah, Djokovic and Federer being in the finals doesn't hurt either!
What this weekend showed was that Americans could still be into tennis, it just has to be exciting. This makes sense; all sports have to evolve, one way or another, kind of like the courts we construct. American tennis, it seems, is getting a jolt of excitement in the form of Francis Tiafoe and Jay-Z. Yes, that Jay-Z, according to Vice.
Mary Pilon writes, "Jay-Z has made yet another intriguing investment: a teenage tennis prodigy. This year, 17-year-old Francis Tiafoe, a much buzzed about prospect who recently signed with the iconic rapper's agency, Roc Nation, debuted at the U.S. Open. He is the first tennis player represented by Roc Nation."
Although he lost his first match, Tiafoe put on an impressive performance and many are saying he is the future of American tennis. With Jay-Z as a backer, that future may be right now!