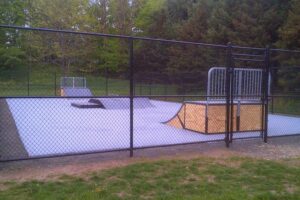 Basketball and tennis are some of the most popular sports in the world because of their accessibility. In fact, it's safe to say most communities have basketball or tennis courts available for public use within a few miles of every urban area.
Recently, though, there has been a rise in popularity in other sports, such as extreme sports, like skateboarding and aggressive skating. Like they did with tennis and basketball, communities have began to notice are beginning to accommodate these athletes with public facilities.
Skateboarding and aggressive skating have seen huge gains in popularity. Their competitions are seen on network television and professionals of these sports have become household names, like Tony Hawk.
With a rise in popularity becomes a demand in building a public skate park for everyone to enjoy. This is where Classic Turf's post-tension surfaces come in.
Recently, Classic Turf built a post-tension concrete sealing system in Woodbury, CT, with vertical ramps and room for freestyle. The best part about this new facility is the concrete.
Skaters want a surface that's free of cracks and abrasions. It's vital for them. Going down a quarter pipe ramp trying to avoid a big crack in a skating surface is more dangerous than trying to 360-kickflip over a hand rail. It's a surface skaters of all kinds will want to use.
With a crack-free guarantee, athletes will come back and enjoy a facility like this time and time again. As for a community that helps funds the building of such a project, there's practically zero maintenance, so the skate park has the ability to be open the entire year – which is music skateboarders and aggressive skaters' ears.