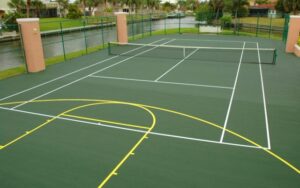 So you're thinking of having a residential tennis court installed on your property, but, like most people, you're not exactly sure where to start, right? In your mind, you can kind of picture it, but in reality, there's a lot to consider before a shovel goes in the ground. What are some questions to ask a company like Classic Turf when considering a residential tennis court?
Zoning Laws
First, you'll want to figure out if the land you have allows a tennis court to be built there. Sometimes local zoning laws and/or HOA rules prohibit tennis courts. It's important to check/know the regulations of your particular neighborhood. If you're not sure who to ask about such matters, you can call Classic Turf and ask them, "Who do I call/ask to find out if a court is allowed on my property?" Some communities have certain rules and restrictions involving things like lighting and fencing. Of course you'll want to know the rules before actually having a court installed.
Ample Space
Next, you'll need to measure the space where you'd like to put your court, and ask the question, "Do I have the needed space for this court and all of its amenities?" Does it make sense where you'd like to put it? What are typical court dimensions? Can I have the layout run north to south to avoid players getting sun in their eyes? Will the surrounding land need to be lowered to accommodate drainage needs? These are all details to consider.
Surface Materials and Fencing Options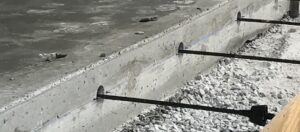 Also, you'll want to ask a company like Classic Turf about surfacing material. Tennis courts can be made of different materials, such as grass or concrete. Different court types play very differently. And, of course, the type of surfacing material you use will ultimately determine installation and maintenance costs. It's a good idea to figure out pros and cons of different materials before you make your ultimate decision. Related to the choosing of surfacing material, you'll also want to ask questions about fencing and lighting to get an idea of what's available and what would make sense for your location and needs. For instance, if you plan to play tennis at night, you'll need some sort of lights to illuminate the court or courts. How tall will they be? How many are needed? How do you replace them if they "go out?" And how do you orient them so they don't bother neighbors?
The Right Tennis Court Accessories
Tennis courts are more than just surfaces to play on with a net or two. You should also bring up the keywords "windscreens," "backboards," and "rebounders" when considering a residential tennis court. If you don't know what those things are, do some research and/or ask a professional to describe what each thing is and what it does. You'll find that there are many beneficial "add-ons" that can enhance your overall tennis court experience.
An Accurate Estimate
What about total costs? This is one of the big questions surrounding the purchase of a tennis court for your property. Exactly how much will it cost to install and then maintain the court? It's a good idea to ask for cost estimates and get them in writing. That way you can see a line-by-line breakdown of associated costs and judge what things you need versus what you want… For example, costs can include area permits, excavation/construction, surfacing materials, fencing, lighting, and the tennis net system (which can include ground sleeves, posts and nets). Might you want to include seating and/or cabanas? What about a nearby storage shed? If and when you choose to have a residential tennis court for your property, there are many things to consider, and it's important to "talk it out" with someone who knows all about such things– hence, a call to Classic Turf Company can truly help you put together all the puzzle pieces regarding tennis courts and all they entail.
Are you ready to discuss court location, size, orientation, surface, budget, fencing, and more? Classic Turf Company of Woodbury, CT, is in the business of tennis courts and more. Please call us at 800-246-7951 or email sales@classicturf.org with your questions and concerns. We'll be happy to answer them to the best of our knowledge and get you on the path toward seeing a court in your yard sooner than later!