Classic Turf Company is known for installing tennis court surfaces, but also supplies things like tennis nets and net posts in order to make the courts complete. All of Classic Turf's nets come with a center strap and anchor.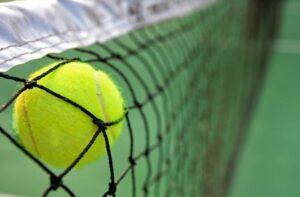 For nets, choose "TN45," which is our double thick 100% polyester headband that plays like a canvas net and offers true net cord bounce. TN45 has 3.5 mm braided polyethylene netting and comes with a 5 year warranty. Classic Turf also offers "TN 30DM," which has a vinyl coated polyester headband and 3.0 mm braided polyethylene netting. TN 30DM comes with a 4 year warranty. These nets are made by Douglas Sports to meet USTA requirements.
For posts, Classic Turf supplies net posts manufactured by Lee Tennis Court products. Choose from an aluminum net post in either green or black, or go for a handmade wood net post featuring Brazilian hardwood with bronze fittings– an exquisite look!
As for installing nets and posts, the tennis net goes in the center of the court, suspended by net posts. The net essentially splits the court into two halves, so players can compete with each other over the net. Did you know the net must touch the ground? This is so the ball cannot and will not travel underneath it. Nets must also have a white strap anchoring them down in the center as well as a white band covering the cable running along the top of the net.
Tennis nets should stand three feet high at their center point while standing three and a half feet from the ground at the posts. This ensures they're at their proper, regulation height. It's okay for them to naturally sag in the middle, by the way.
Regarding tennis net width, obviously the net needs to cover the entire court from sideline to sideline. Generally, net posts are placed three feet outside both sidelines and stand 42 feet apart from one another. Meanwhile, as stated before, net posts should be three and a half feet high. Furthermore, they should not be more than an inch above the net band.
Once your tennis court net and posts are properly installed, enjoy many good games of tennis!