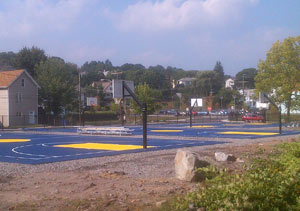 Are you planning on building a tennis court, a basketball court, a skate park, a roller hockey rink, or a multipurpose court sometime soon? When you do, you should think about putting a prime coat on it. A good prime coating system will add several extra layers on top of a post-tension concrete slab, among other benefits. Here are some of the other advantages of going with a prime coating sports surface.
Makes your sports surface more durable
When you put a sports surface into place, you want it to be able to stand up to almost anything. People are going to be running and jumping on it for years to come. A prime coating system can be used to increase the durability of your sports surface. You won't have to worry about anyone doing any damage to it while they're participating in a sport or another activity.
Prevents water from working its way down into your sports surface
One of the biggest concerns that most people have when it comes to sports surfaces is water. Water can sit on top of a sports surface and eventually find its way deep down into it where it can do some damage. The great thing about a prime coating system is that it prevents water from sneaking into a sports surface. No matter how much it might rain in your area, your sports surface will be protected from the elements.
Helps your sports surface to last longer without cracking
A sports surface isn't going to do you much good if it has a huge crack in it. A crack can cause people to trip and fall on your sports surface. It can also make it unsightly. A prime coating system will ensure that your sports surface doesn't crack at any point in the near future. You can usually get a crack-free guarantee for up to 20 years on sports surfaces with prime coating on them.
Do you want to use a prime coating system on your sports surface? Allow Classic Turf Company to show you how simple it is to take advantage of this option. Call us at 800-246-7951 today for additional information on our patented prime coating sports surface.