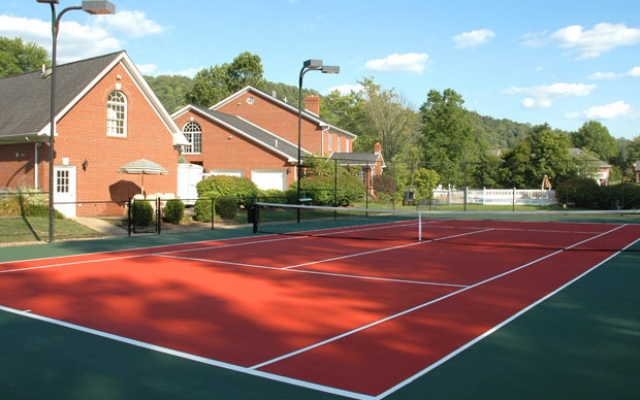 What are some things to keep in mind when resurfacing a tennis court?
Whether it's a first time installation or a resurfacing, it's important to know the basics of how courts should be– for instance, proper slope requirements are .8333% – 1.0%. Obviously, there needs to be adequate drainage in place at both the surface and subsurface levels. If you have concrete courts, make sure no curing compounds are used, there's a vapor barrier installed beneath the slab, and they're finished with a medium-broom texture.
Before using a court that's "fresh," keep in mind that it takes a while for your court surface to "cure." In general, it's 28 days for concrete or 30 days for asphalt. Surfaces should NOT be coated with a pavement sealer.
The Best Temperatures to Resurface a Tennis Court
Resurfacing a tennis court is best done when the outside temperature is 50 degrees or warmer (and rising). Most pros install courts in the morning hours before temperatures get unbearably hot. If and when acrylic resurfacer/color coatings are used, they typically dry within an hour in the full hot sun. So, if it's a shady area or the temperature is in the 50s or 60s, drying time might take longer. It's best to follow manufacturer's application and curing temperature guidelines.
Ever wonder what tools are used with regards to tennis court surfaces? In general, workers will use floor scrapers, grass trimmers, brooms, blowers, a pressure washer, a drill and paddle mixer, a line taping machine, and a sport squeegee. Ideally, they'll have enough materials mixed for the entire resurfacing coat before starting the application.
Once a court is resurfaced, cured and ready for use, of course it's important to maintain it. Using soft nylon or hair-type brooms work well for scrubbing the surface. If you use a water broom, pressure should be limited to 70 p.s.i. You'll want to remove dirt, debris and leaves from the court surface, and get rid of any standing water/puddles as soon as possible.
Classic Turf Company of Woodbury, Connecticut, knows all about tennis courts surfaces, so if you have any particular questions, don't hesitate to call 1-800-246-7951.