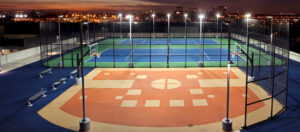 Hot off of winning the 2015 PTI Award of Excellence for our post tension concrete and cushioned sports surface installation at Sky View Parc in Flushing, NY and riding the momentum of our newly designed website, we over at Classic Turf Company are always very excited about the summer. It tends to be the season where our sports surfaces shine the brightest – it should also be the season where YOU shine the brightest and that means it's time to spend a day with the family or friends outdoors.
While hiking, camping, or traveling in the summer are fun, they can be time constricting and may not be practical for everyone. Outdoor activities including basketball, tennis, or track may be more fitting for families or couples with many obligations this summer. This year, look no further than Classic Turf for all your court surface needs. Whether you're looking for a professional, state-of-the-art court, or a simple surface for your children to practice on, we have the answer to fit your needs.
According to this Lifehacker.com article, summer is the time to break a sweat and get away from the hibernation of winter. While work, cleaning, and school are important parts of a daily routine, so is outdoor exercise. Alan Henry writes, "You need the Vitamin D that your body produces from direct sunlight to keep your bones healthy and stave off diseases like osteoporosis."
In addition, sunlight with outdoor activity can also "boost your creativity and cognitive function." Don't wait until the good months are over; get you and your family going with a signature home sporting surface by Classic Turf. A healthy dose of sunlight and outdoor activity, such as tennis, can heal the stressed out mind and foster a great summer experience.
Historically, tennis is considered a "lifetime sport." No matter how much you age, tennis is an excellent form of workout for all ages. With this being said, it's never too late to pick up the game. Since it's not a team sport, grab a friend, pick up a racket, and try your hand at a game of tennis. Outdoor courts are available at most country clubs, parks, and recreation centers. In our past blog posts we've discussed the importance of basketball as a fun way to bond with friends and also break a sweat. Tennis can also instill friendly interaction with colleagues, neighbors, and community members.
At Classic Turf Company we create customized surfaces for not only tennis, but basketball, and running tracks. We've collaborated with schools, municipalities, clubs and many other organizations to create unique indoor and outdoor spaces to fit the needs of the group. Many of our testimonials and photographs of our work on tennis courts can be seen by taking a quick look at our website.
Tennis holds many benefits other than being a great way to exercise and socialize. According to Dr. Joan Finn and colleagues at the Southern Connecticut State University, "Tennis players scored higher in vigor, optimism and self-esteem while scoring lower in depression, anger, confusion, anxiety and tension than other athletes and non-athletes." Tennis is a great way to burn calories, develop hand eye coordination, and become a lifelong hobby with friends and family.
Summer has started, but it's not too late to pick up a racket and ball. Contact us today about installing a court to make your house a home.
Contact us today for your outdoor turf options!