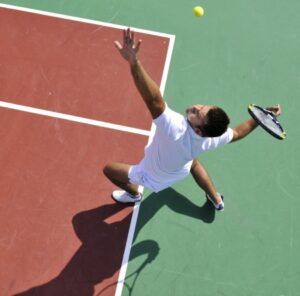 Tennis is one of the most popular sports across the globe, with top players representing a slew of different countries. The popularity of the sport has never been higher…in other countries.
Unfortunately, it seems that America is lagging behind in terms of enthusiasm for and success in tennis and it has been that way for a number of years.
The situation has many worried, especially the people over at the United States Tennis Association, which got used to U.S. dominance of the sport in the glory days of the '70s, '80s, and '90s. Back then was a different landscape; few countries at the time played tennis at a high level. These days, the world has not only caught up, it is blowing right by the red, white, and blue. The highest ranked American tennis player, John Isner, sits at No. 18. C'mon America, we can do better than that! First, we need to figure out what is going on with tennis stateside. Thankfully, AJC.com has summed it up nicely.
They report, "Wertheim [executive editor of Sports Illustrated and a Tennis Channel commentator] thinks
tennis vitality in America doesn't rely solely on American stars
, and he said fans can root just as hard for international stars. They do, however, need to see those players in person. And they're getting fewer chances to do that. The United States Tennis Association mourns every tournament lost, said Chris Widmaier, managing director of communications."
Wertheim believes the problem rests not in there being any American superstars currently, but that there aren't too many events going on around the country fans can go see. The most popular sports in the country, such as football and baseball, seem to have a presence in every city, whether it's college, the minors, or professional. Tennis doesn't have that luxury. When was the last time you attended a professional tennis match? We'll wait…
Is that crickets we hear? Most likely you haven't been to one in a while, if at all, which makes our job at Classic Turf Co. very important. Our tennis courts are the best in the industry and with over 30 years of industry experience, we're doing our part in trying to reverse this tennis problem – are you?