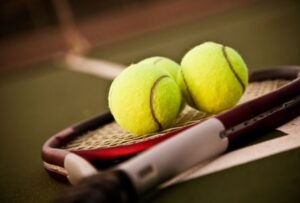 While tennis courts could technically be any size, in reality there is such a thing as a "regulation tennis court."
The International Tennis Federation governs the sport of tennis, defining the exact size of what's considered a "regulation tennis court" as played on a rectangular flat surface. Consider the numbers…
A proper tennis court is 78 feet long, with a width of 27 feet for singles matches and 36 feet for doubles matches. The service line is 21 feet from the net. Overall, the court measures 60 feet wide and 120 feet long when taking into account the clear space around the court allowing for players to reach for overrun balls.
The net in the middle of the court ends up stretching the full width of the court, parallel with the baselines. The net divides the court into two equal ends. Did you know the net should be 3.5 feet high at the posts and 3 feet high in the center? Meanwhile, the net posts are 3 feet outside the singles/doubles court on each side.
These measurements apply to tennis played anywhere in the world, from Wimbledon to the Australian Open. When players want to play tennis as a serious competition, often with money as a prize, they must use regulation courts deemed "official" by the International Tennis Federation.
In order to increase the numbers of kids playing tennis, the International Tennis Federation has come up with smaller regulation court sizes for children under 10 years of age at 59 feet long by 21 feet wide and for children under 8 years of age at 36 feet long and 18 feet wide. Some adults would happily play on the smaller courts just because they don't want to have to run as much, right?
Classic Turf Company of Connecticut has years of experience installing regulation tennis courts for adults and kids in many places around the country and then some… Classic Turf's courts can be found in New Jersey, New York, Miami and Bermuda, among other locales. For more information, please call 1-800-246-7951 or use the online contact page.