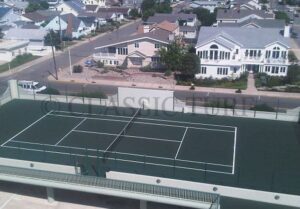 Just because you live in a high-rise doesn't mean you can't have amenities high above that you'd normally find down below. For example, why not play tennis on a rooftop? The views are incredible, for sure, creating a unique and interesting tennis experience like no other, anywhere else.
South Florida is a pretty crowded place. There are so many high-rises along Ocean Drive that it's rare to find any open space near the water. Because everyone wants to live in and/or visit the Greater Miami area, a tropical paradise in many respects, developers have done their best to utilize space in order to appease hundreds of thousands of people. In recent years, building owners have sought to make their buildings better than the competition by adding amenities on their properties– oftentimes on their rooftops in particular. What otherwise might be empty space is instead converted into useful space, enjoyed by residents and visitors alike. From rooftop pools to high-in-the-sky jogging parks, one of the main uses of Miami-area roofs in the new century is tennis courts.
South Florida has been associated with a fit and active lifestyle for decades. It's the kind of place where people like to spend time outdoors getting tan, going for a swim, and playing sports like tennis to get their hearts pumping and keep their waistlines trim. Whether young or old, tennis is the kind of sport that attracts people of all ages and skill levels. Get some decent tennis shoes, tennis balls and a racket and you're ready to have fun and get some exercise at the same time.
How Rooftop Courts Can Make Your Building Distinct
While high-rise residential buildings can become quite cookie-cutter in their looks and feels, having distinct rooftop amenities can set apart a particular building causing people to want to choose it over the competition. That said, having a rooftop tennis court might mean the difference between enticing a future tenant or buyer versus having them pass and look elsewhere. Tennis courts have long been associated with the rich upper class in many circles. What great estate doesn't have them, right? For people of means living in a cosmopolitan city like Miami, a tennis court is typically a must-have. Even people who don't play tennis like to know their building has one for the sake of appearing "well-to-do."
Generally speaking, in Miami-Dade and Broward counties there's not much open land available for things like tennis courts on the ground. There's not even much land for people to buy lots to build their own single-family homes!
As more and more people live in high-rises, those with money seek out better facilities that offer them more bang for their buck. Tennis players love the idea of having their building's court available just a short elevator ride away… and rooftop areas feel "nice and open with great views and a nice breeze," as many would comment. Imagine playing tennis several floors above Ocean Drive– it's an exhilarating experience.
How Classic Turf Co Can Help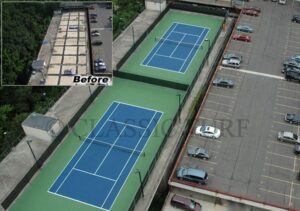 One of the main reasons people flock to Miami is for the gorgeous weather it enjoys much of the year. While people in Buffalo, Chicago and Minneapolis are freezing in January, their Miami friends can be outdoors in tee-shirts, shorts and sneakers playing tennis on a rooftop in the middle of winter. That's a lifestyle most people envy, and why not?
Living a luxurious life means having the opportunity to play tennis atop the building you live in/visit! Classic Turf Company creates fabulous rooftop tennis courts. If you've ever visited the Waverly Luxury Condominium in Miami Beach, you'd see a rooftop tennis court made by Classic Turf Company. This is just one example of what Classic Turf Company can do with rooftop facilities. There are other examples in Miami, as well as diverse locales like Bermuda, Denver, Brooklyn, and Manhattan.
Over the years, Classic Turf Company has worked with both private and public facilities to provide state-of-the-art rooftop sports surfaces including tennis and basketball courts, bocce ball courts and children's play areas. With rooftop tennis courts, there's the 20-year crack-free guarantee. Find out more information about having a rooftop tennis court designed for and added to your building's roof by calling 1-800-246-7951 today.