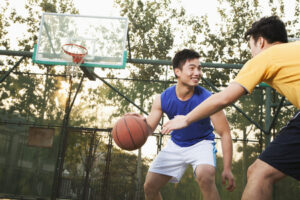 Think of some of the greatest basketball players of all time. What names come to mind? How about Magic Johnson, LeBron James or Larry Bird? Then there's Kobe Bryant, Michael Jordan, Shaq, and many others. All of them had to start somewhere. Maybe it was at school. Maybe it was at their neighborhood park. Or maybe it was on their own court in their own yard at their own house. For anyone who loves basketball, having one's own court is the ultimate good deal, right? Right!
You can encourage young people in your life to enjoy basketball by offering them a place to play on your property. Whether it's for your own kids or nieces and nephews, or even for yourself and your friends, whomever uses a court "at home" gets the convenience of not having to share it with others, playing whenever they want!
Post-Tension Concrete Basketball Courts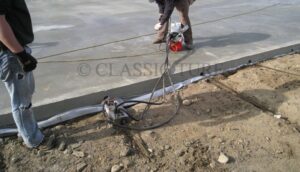 Classic Turf Company makes outstanding basketball courts for people's homes, using "post tension technology." Why is this notable? Well, unlike asphalt, which tends to crack and deteriorate fairly easily, post tension concrete courts are designed to last a long time and stay in good shape for years and years. Smart engineers came up with this technology that increases the number of cables used within the concrete in order to make it perform optimally even in adverse soil conditions and extreme climates. The ground tends to shift over time– it's inevitable… and with post tension, the court materials can literally move with it so they don't end up cracking. That's revolutionary when it comes to court design and engineering!
Post-tension concrete for courts has been in use since the 1980s, and it works so well that it continues to be very popular. Post tension offers an increased resistance to cracking, settling or heaving. Cold joints are eliminated around the net and fence posts. Maintenance costs are lowered. With a more controlled slope for drainage and a stable, good-looking concrete edge, these type of courts hold up well over time. They're able to integrate slab and retaining walls and offer better uniform dimensions for play. All in all, post tension concrete basketball courts are a slam dunk when it comes to court surfaces.
Reasons to Add One to Your Property
Why have Classic Turf design and install a post tension concrete basketball court for your home? Well, whether you're a competitive athlete or just enjoy playing ball for the fun of it, basketball is the kind of game that encourages people to put down their smartphones and computers and actually get outside and exercise. Courts can be customized to your needs, so if you want certain colors incorporated, and/or special "extras," just ask. Meanwhile, courts are designed so that players don't have to accidentally run into traffic to get the ball like they would if they were just using a hoop in the driveway. Wouldn't it be cool to have your own b-ball court in your backyard or on the side of the house?

One of the main reasons people end up building their own basketball courts is they like having them available 24/7 (no waiting for court time) and right outside their own door. They don't have to hop in the car and drive somewhere to get there! Meanwhile, for those who truly love the game, having one's own court allows for maximum practice time. And it's fun to invite people over to play games. Courts help strengthen the bonds between friends and family. They help build social skills, too. For those who deal with anxiety and depression, exercising outdoors on the court can help reduce stress and promote a feeling of positivity. In other words, playing basketball is good for your health.
Classic Turf Company can design and install a post tension concrete basketball court that fits your sizing and sports needs. Need fencing, rebounders, nets and more? We've got you covered– let us work together to figure out how you want your court to look and feel. Game on!
Visit Classic Turf's page about post tension b-ball courts here.
Call us with your questions at 1-800-246-7951.