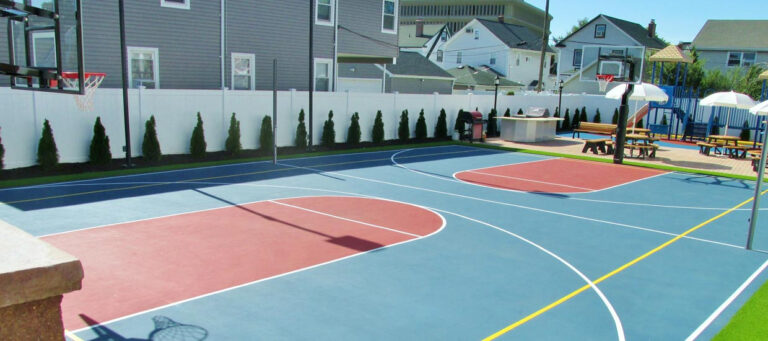 The coronavirus pandemic caused millions of people to stay home when they normally would have been out in public at places like restaurants, movie theaters, and sporting events. Originally, most people thought they'd have to worry about the virus for about two weeks or a month, but that turned into many months, if not years. More and more people stayed home than usual, for long periods of time. And they were looking for something to do at home, such as reading books, putting together puzzles, or playing in their yard.
We're Spending More Time at Home

For people who like basketball, having their own outdoor basketball court in their yard is a dream, right? It's actually a doable dream. People are taking the money they would have spent on a vacation to Hawaii or Europe and instead investing in things for their yard, such as pools, tennis courts and basketball courts. After all, thanks to the pandemic, the foreseeable future looks like most people, including families with kids, will be spending more and more time at home. So why not improve the yard with some amenities?
Skill Development
If you're a "basketball family," then you should consider having a basketball court installed in your yard. This will become the space where kids (and parents) practice and improve their basketball skills, from dribbling to shooting and then some. And if someone in the family plays for a team, this space can help them develop as a player– it's their own practice space where they can improve their skills before they get to school and play with their team. Or, in many cases, the home court becomes a place where young people can invite their friends over to hang out and play for fun or competition. Just like homes have game rooms or play rooms inside, some homes have outdoor courts. Wouldn't you like to have your own outdoor basketball court?
An Appealing Exterior Focal Point
The nice thing about having your own court is that it's yours. You get to decide how it looks and feels. You have a hand in planning its installation and colors and "extras." Plus, when you own your own court, you make the rules for it. You decide when to use it and you don't have to wait until others finish their practices or games in order to use it. If you install lights, you can utilize the courts at night, too. That means even more quality time playing basketball, which is a great thing for people who love the sport and spend almost all their "free time" playing it!
Improved Physical and Mental Health
In a world where most people are staring at screens, on their phones or devices, basketball is the kind of thing that brings people together to interact in a real and healthy way. Family bonds will develop during time on the court. Friends will want to come over and check out the court. It becomes a place to gather and have fun, as well as a place to get some exercise.
Shooting hoops will make you sweat. You can burn some 300 calories (or more) per hour during basketball games. Want to lose a little weight? Run around on the court for a couple hours each day or so… The more you sweat the healthier you'll be, losing some weight, getting your blood pumping, and toning your muscles.
Having your own court gives you the time and place to work on mastering basketball skills, from ball handling to passing, etc. If you want to practice, you don't have to drive somewhere to get to a net. You just walk outside and your own court is right there, always conveniently available!
Courts Are Versatile and Valuable
Basketball courts are versatile. It's not unusual for people to use their court for a couple other games such as volleyball or badminton.
If you want to increase the value of your home, add a basketball court. This amenity will make it stand out in a market since most homes don't have their own courts. Furthermore, for people who love basketball, this is definitely a selling point that can help seal the real estate deal.
Finally, if you want to enhance the look of your yard, a basketball court makes for an attractive and useful addition. Imagine how you could improve your landscaping around it… Remember, you get to choose colors and features, customizing the court and its surroundings to your liking, which should make it very visually appealing to you and yours. It could also become well-known in your neighborhood if it's visible to neighbors. "Oh, that's the house with their own basketball court," is what neighbors would say.
Do you want to discuss adding an outdoor basketball court to your yard? Call Classic Turf Company at 1-800-246-7951.