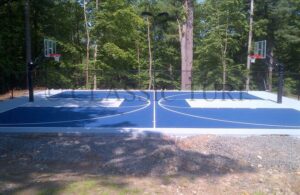 Classic Turf is in the business of designing and installing outdoor court surfaces where people play tennis, basketball and other fun sports. Want to see some of our work? Here it is.
How do outdoor courts benefit families?
Extra Practice Time
Well, for starters, if there's an aspiring professional athlete in the family who needs a lot of practice time, it behooves a family to have their own court conveniently in the yard. That way their son or daughter doesn't have to waste time traveling elsewhere to use a court that may or may not be crowded with other people.
Myriad Health Benefits
Personal sports courts encourage young people to get outdoors, get fresh air, and move their bodies. In an era when it seems like most kids have their heads buried in their phones and/or just play video games all the time, wouldn't it be nice to say you've got kids who play outside? And then they can invite their friends and relatives over for a game or two of hoops/tennis/etc.
Customized to Your Style
Courts can be customized to look good on your property and even "coordinate" with your likes, showing off certain favorite team colors and such. Meanwhile, having a court is a good idea because it sets the game playing apart from dangerous areas– instead of having a basketball hoop in the driveway where a ball could easily end up in the road and a kid would run out there to get it, getting hit by an oncoming car, a court is its own space, away from "the street" and typically fenced in.
Strengthen Your Family
If you want a convenient, 24/7 practice and play space, an outdoor court is ideal. Not only does a court in your yard encourage physical fitness, but it also helps build social skills and can strengthen family bonds. When you want to reduce stress levels, depression and anxiety, get out on the court and play some ball!
Are you considering the addition of a sports court to your backyard or side yard? Call Classic Turf Company and let's discuss planning details today: 800-246-7951. You can also use email: sales@classicturf.org.